14 Oct

Our Four Ingredients Cookbook

Cooking up a storm in the office.

We've all owned one of those classic Four Ingredients Cookbooks at some point in our lives. There's one hiding in every family home; on the top shelf of the kitchen cupboard gathering dust next to a broken-down mix master.

Not sure what we're talking about?
Maybe these will jog your memory!
From kitchen basics to fancy dessert recipes, this book had an answer to everything. Rainy days were never boring, and the fridge couldn't possibly be 'empty'. It taught us how to work productively – simplifying cooking by focusing only on the most important ingredients.
It's only natural that this theory has now translated to our business.
We have so many different goals that we're working towards, as well as our day-to-day processes. We also have a huge ethos around employee morale.
How do we manage all of these aspects of our business? How do we know what to focus on?
We've taken inspiration from Kim McCosker and our childhood and narrowed it down to four main ingredients that we know are essential to the success of Blended.
Happy Staff
It's not often you see this on a priorities list. Sure, it's widely known that employee morale is important in a business, but it's rarely considered an absolute necessity. Our business thrives on the happiness of our staff. Without it, we wouldn't be motivated to work as hard as we can. Our passion is what drives our results, therefore we have to dedicate a lot of energy to boosting morale.
Outbound Sales
As a peoples company, this constitutes about 70% of the recipe. The actual process of recruiting is the base to our tiered cake. We make calls and go door-knocking to connect with clients, then source candidates and set up interviews. This is how we find roles, then fill them. We spend the bulk of our day doing it because it is the purpose of our work.
Follow-up
We can't just focus on building our books. We also need to address those that are already in there. The recruitment business is a blend of both sourcing new clients and keeping in touch with our current clients. We check-in with them constantly to see how their business is going and whether they need more recruitment. We also take pride in maintaining our relationships. We love our network!
Media
Finally – the icing on top! You may have seen us around in the online world. Whether it was Ephraim eating a spoonful of vegemite, or Declan cruising down the Flight Centre slide, we've been pretty active on social media!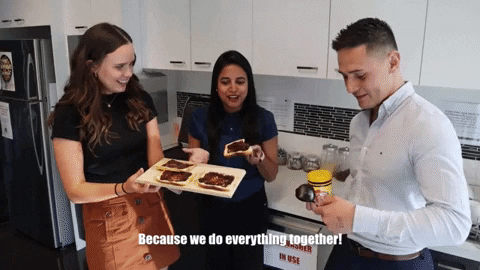 We want to show people who we are, so we go out of our way to come up with original, likeable content every day. Not many businesses put this much effort into photos and videos, but we think it makes us who we are.
Solely, each of these ingredients would be effective, but not enough to sustain a successful business. We could all just be happy, but we wouldn't be getting any work done. We could only focus on outbound sales, but what about our current client base and our reputation? We wouldn't skip an ingredient in a chocolate cake recipe, so why would we abandon one of our top values?
After a year in business, we've identified that these are the four things that keep our wheels turning. Anytime we're feeling lost, we can redirect ourselves by opening the Blended recipe book.
There are 35 different kinds of four ingredient books in the cooking world, so imagine how many there are in the business world. This is ours… what would your businesses four ingredients be?