23 Oct

Panthers and Storm show two paths to success in sales

The Decider. The Big Dance. The Game of the Year. Whatever you call it, you should be pumped for Sunday's massive NRL Grand Final.

This titanic clash between the Panthers and the Storm – the top two teams on the ladder – is mouth-watering for sports fans of all kinds.

But even if you're not into the Greatest Game of All, that doesn't mean you can't learn anything from these two very different teams.

The Panthers are a club who've never had success delivered on a silver platter. They took 24 years to win their first title in 1991.
Another classic #NRLGF. The @PenrithPanthers and @RaidersCanberra battled it out until the end in 1991. pic.twitter.com/FUNUiLttap

— NRL (@NRL) October 22, 2020
Out of nowhere, however, they've strung together 17 consecutive wins to finish top of the ladder.
Naturally, this makes them unbackable favourites for Sunday's match. Or so you'd think. In fact, the bookies have them down as slight outsiders going in.
This seems ludicrous considering their incredible record all year. However, beneath the surface, it's not quite as ridiculous as you'd think.
There's an old saying that you have to lose a grand final to win one, and that is very much the case here.
Penrith haven't made the decider since 2003, which is an age in sporting terms. By comparison, the Storm have made three of the last four. Captain Cameron Smith has played in seven and coach Craig Bellamy has taken them to eight.
The past 22 #NRLGF results 👀 pic.twitter.com/VM7qXgCWI6

— NRL (@NRL) October 22, 2020
Essentially, we have a team on the cusp of success, and a team that delivers it year in, year out, without fault.
This means that when it comes to crunch time, it's a safer bet to stick with a proven performer than a possible shooting star.
Think about how you approach your sales targets. When you get into a groove and starting hitting those targets, do you keep it going or fall by the wayside?
That's the challenge for Penrith, not just on Sunday, but beyond this year.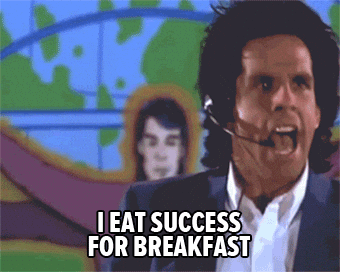 Short-term success is nice, but long-term success can set you up for life.
There may not be a sales grand final, but that doesn't mean there isn't anything for you to aim for. Are you going to fade away after reaching the top, like so many have before? Or are you going to use the good times to set up a foundation for success?
Managers care more about long-term results than occasional peaks. Your challenge is to keep the energy high and enthusiasm strong beyond this year and into the future.
If you want to stand out in your field, you need to make the big moments count. Don't just be thankful when you hit those targets, make that your routine.
Whether you're scoring tries or knocking over KPIs, you want to stay successful for life.